LG WM3455HW
RANK #1: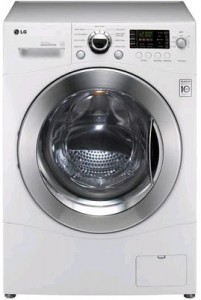 LG washer dryer combos have a really great name in this industry and this model represents it very well. As you can see, I actually ranked it #1 because it has the best features, reliability (according to users who shared their experiences all over the internet) and still not expensive. The features and technical details are exactly the same as with LG WM3455HS. The only difference is the color – the last letter W in the model name WM3455HW stands for white.
Details:
| | |
| --- | --- |
| Dimensions (WxHxD): | 24" x 33 1/2" x 25 1/4" |
| Weight: | 159 lbs. |
| Capacity (cu.ft.): | DOE 2.3 |
| Drying System: | Ventless Condensing |
| Number of Wash Programs: | 9 |
| Number of Dry Programs: | 6 |
Features:
Auto-adjusts to load size, Dial-A-Cycle™(Allows to easily find the right setting every time.), Delay Wash, SenseClean™ System(Sets the water level and wash time automatically, based on the weight and size of each load.), Sensor Dry(Multiple sensors evaluate when to stop drying, based on how much moisture is present. This sensor is great for your clothing and energy efficiency.), LoDecibel™ Quiet Operation(Reduces noise and vibration.), End of Cycle Beeper, Child Lock, Auto Suds Removal, Forced Drain System, Status Indicator(s), Internal Water Heater
Spin Speed (Max):
1300 RPM
Warranty:
1 Year Parts and Labor, 10 Years Motor, Lifetime on Drum
Wash Programs:
Cotton/Normal, Perm. Press, Delicates, Hand Wash/Wool, Rinse & Spin, Speed Wash, Cotton Quick, Sanitary, Bulky/Large
Dry Programs:
Speed Dry, Cotton Quick, Sanitary, Cotton/Nomal, Perm. Press, Rinse & Spin
Wash/Rinse Temps:
Extra Hot/Cold, Hot/Cold, Warm/Warm, Warm/Cold, Cold/Cold
Options:
Prewash, Extra Rinse, Stain Cycle(perfect for bad stains), Water Plus(Will add approximately 2 – 4 extra gallons of water to the current selected wash cycle. Not at once, but evenly throughout the whole cycle.), Drum Light(You can activate it by pressing and holding the rinse+spin button for 3 sec. It turns of automatically in 4 minutes. The light also activates at the end of the wash cycle for 4 minutes and turns off automatically), Tub Clean(Removes any detergent buildup or residue from the washer drum.), SpinSense™(Can be used to reduce vibrations), Delay Wash(up to 19 hours), Child Lock
Tray Dispenser:
3 slots: Prewash, Main Wash, Softener
Materials:
Drum: NeveRust™ Stainless Steel, Cabinet: Painted Steel, Control Panel: Plastic, Top Plate: LPM Board, Door Rim: Chrome
Color:
White
Ratings Electrical Requirements:
Runs on standard voltage electricity (UL Listed /120V, 60Hz, 10Amps)

Images:

Video:

The video is for this model, only that it's in a silver color instead of white.
Pros and Cons:

Positives:

Well-designed unit with a stylish and luxury look.
Great performance, features and energy efficiency – saves money on your electric bill.
Easy to install, easy to use.
It's very quiet. Should be mounted on a solid flat floor or vibration isolation pads to solve any vibration issues.
Excellent capacity for the overall size of the machine. Just to compare, it washes the same amount of clothes as the typical smaller commercial machine you find at a New York City laundromat.
If half loaded, it takes just 1 hour for clothes to wash and dry and just 1.5 hour for jackets and heavy wool items.
The clothes that come out feel great. They are soft without using fabric softener and clean with a minimum of soap.
It's ventless and uses condensation to make the vapour release its moisture and be pumped out along with cold water used for this purpose.
Uses very little water (70% less water).
You can interrupt the program at any time, change any setting or open the door, and then resume.

Negatives:

No negatives other than the common ones below.

Negatives common to all combos:

There is no exterior lint trap for the dryer. The lint tends to collect around the rubber seal and you have to empty that once a month depending on the frequency of use.
The clothes need to be free to tumble in order to dry completely. Fill only half of the drum if you're going to use the dry function.
Noisy water pump that expels the water from the machine – although active only intermittently during the wash and rinse cycle.
Produces a bit of heat.
Rating:

Design:
9/10
Capacity:
9/10
Features:
10/10
Wash & Dry Programs:

10/10

Money Savings:

10/10

Quiet:
9/10
Quality of Wash:

10/10

Quality of Dry:

10/10

Affordable:
6/10
Reliability:
9/10
Total Score: 92
Reviews and Prices:

Here you can find and compare user comments and prices from different online stores. Just a small advice – if you find a lot of positive reviews and some negative ones, it usually means that the complaining people don't use the machine properly, or received some defective piece.
Online Store
Price
Link
CompactAppliance.com
$1335

(time-limited 20% discount)

Details
Amazon.com
$1,487.99
Details
PCRichard.com
$1,599.97
Details
Conclusion: This model is a little bit smaller than for example the LG WM3987HW, but provides the same performance and efficiency and is by far the best washer dryer combo I'd recommend to buy. I' like to clarify one more thing. You might come across the model WM3477HW, so just to let you know, it's practically the same machine with only one exception – the model WM3477HW has one drying cycle less than WM3455HW. You can even hardly find a review, or feedback so I personally wouldn't want to take an unnecessary risk.