RANK #9: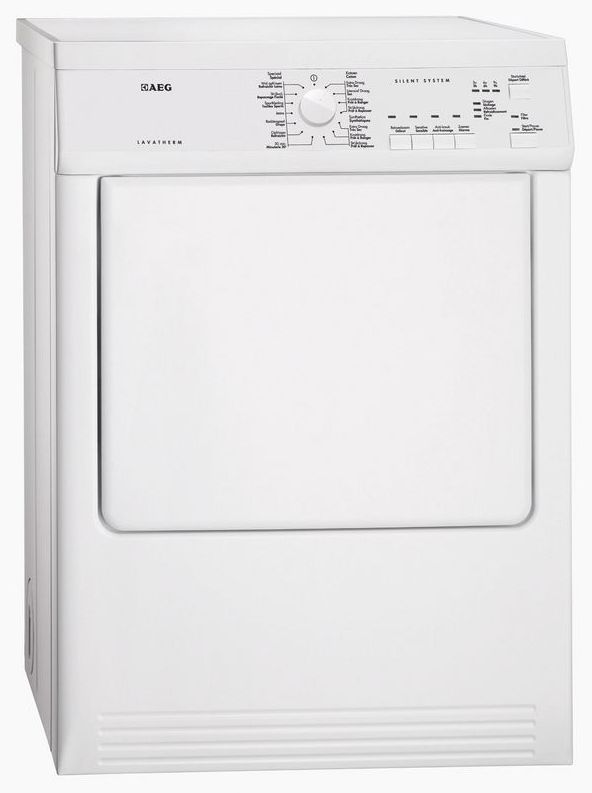 AEG is a well-liked brand for its quality and performance. They are very popular in the technical, technological and innovation area, as they are one of the best brands in Europe in household appliances. I was impressed with the technological and functional features of the AEG T65170AV dryer. Don't get me wrong: all AEG models have almost same features, but this dryer right here has some exclusive features that aren't present in other models. Now, it's not gonna win price for its design, but it certainly is worth checking out.
Details:
| | |
| --- | --- |
| Dimensions (WxHxD): | 600mm x 844mm x 580mm |
| Weight: | 29,76kg |
| Capacity (kg.): | 7kg |
| Number of Drying Programs: | 14 |
Features:

Silent System – you can dry your clothes in a quieter way, as the drying cycle has been engineered to eliminate noise.
Refreshment for your clothes – the refresh program will give your items the just-laundered feeling of softness and freshness.
Evenly dried laundry – this tumble dryer's drum rotates in both directions, meaning your clothes will dry evenly with fewer creases.
Minimum amount of energy – it adapts the cycle length to suit the dampness and size of each load so that you can achieve ideal drying results for minimum amount of energy.
Delay start function – with this function, you can pre-programme when your cycle should start.
Sensor drying – it gives you top-notch drying results, as well as total control over everything. All you have to do is to choose the required level of dryness and the dryer will sense when the load is dried to the level you specified.
Cotton, synthetics and delicate programs – ideal for drying different fabrics.

Maximum Drying Time:
30 minutes timed program
Warranty:
2 Years Warranty
Drying Programs:
Special: Wool Refresh, Sports, Easy Iron, Time 30′, Refresh, Jeans, Bed Linen; Cottons: Extra Dry, Strong Dry, Iron Dry, Cupboard Dry; Synthetics: Extra Dry, Iron Dry, Cupboard Dry.
Options:
Delicate, Sensitive, Anti-Crease, Buzzer
Temperature Levels:
Drying, Cooling, End
Materials:
Drum: Stainless Steel
Color:
White
Ratings Electrical Requirements:
Runs on standard voltage electricity (AEG T65170AV Approval certificates CE|VDE-GS, C rating for energy efficiency, 50Hz frequency, UK plug type, 2,600 kW connected load, 230-240 V)

Images:

Video:
Pros and Cons:

Positives:

The start of a cycle can be delayed by 9 hours.
It operates great and everything feels sturdy.
Has a reversible door, which means you can customize this dryer to suit your space.
The clothes never get tangled.
Made with innovativeness to fulfill your drying needs.
Comes with great features and 14 programs.
It operates really quietly, so it's less distractive.
It's affordable for everyone's pocket.

Negatives:

Some owners have experienced a button ripping issue while drying garments.

Negatives common to all dryers:

Some dryers may require a major time commitment for servicing or repairing.
Rating:

Design:
6/10
Capacity:
7/10
Features:
8/10
Drying Programs:
9/10
Money Savings:
9/10
Quiet:
10/10
Quality of Dry:
9/10
Speed of Dry:
8/10
Affordable:
10/10
Reliability:
8/10
Total Score: 84 %

Reviews and Prices:

Here you can find and compare user comments and prices from different online stores. Just a small advice – if you find a lot of positive reviews and some negative ones, it usually means that the complaining people don't use the machine properly, or received some defective piece.
Online Store
Price
Link
JohnLewis.com
$455.00
Details
Currys.com
$455.00
Details
Conclusion: 
AEG is pretty good in making low budget tumble dryers. With sensor drying, reversible door and reverse tumble action, this AEG T65170AV dryer will work to suit your lifestyle. The design and the lack of digital display and timer, as well as the fact that the filter is not easy to clean are the reasons why some people opt for other dryers, but all in all, this AEG dryer is worth the money.