RANK #5: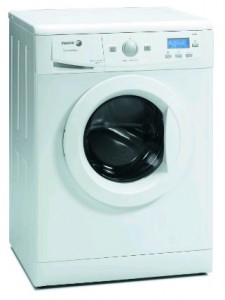 The FAS-3612 model is one of the best models by Fagor. Although, I don't really like its design, the features and performance are certainly comparable to the LG units. The design is really just a simple white style – nothing special. Maybe the blue LCD screen might help so that this machine doesn't look like a vintage piece. However, still the screen is very small and offers just the basics. Although I need to admit that it is good that it at least has a display at all. With older machines you don't get even that. Just check out the video on this page for a closer look. It also nicely describes it's functions and how to use it properly.
Details:
| | |
| --- | --- |
| Dimensions (WxHxD): | 23.23″ x 33.5″ x 21.65″ |
| Weight: | 172 lbs. |
| Capacity (cu.ft.): | DOE 1.8 |
| Drying System: | Ventless Condensing |
| Number of Wash Programs: | 11 |
| Number of Dry Programs: | 5 |
Features:
Turbo-Time(Agitation and sprinkler system improving washing results whilst reducing washing times by wetting the laundry quicker.), Anti-crease reversing system(Creates an intermittent rotation of the stainless steel drum, which helps prevent wrinkles and also separates the clothes during the drying cycle.), Advanced Balance System(Controls the spin cycle, reduces vibrations and noise and increases the durability of the combo.), 180 Degree door opening, Anti-Overflow Safety, Suds Control, 24 Hour Start Delay
Spin Speed (Max):
1200 RPM
Warranty:
1 year parts and labor
Wash Programs:
Normal Wash – Cold, Quick Wash, Permanent Press Warm, Normal Wash – Hot, Normal Wash – Heavy Soil, Hygenizer – Heavy Soil, Pre-Wash – Heavy Soil, Delicates – Cold Wash, Delicates – Light Soil, Delicates – Medium Soil, Wool
Dry Programs:
Rinse, Spin, Normal Dry, Delicate Dry, Drain
Tray Dispenser:
3 slots: Prewash, Main Wash, Softener
Materials:
Drum: Stainless Steel, Cabinet: Painted Steel, Control Panel: Plastic, Top Plate: LPM Board, Door Rim: Painted Steel
Color:
White
Ratings Electrical Requirements:
240V NEMA 6-15R receptacle and draws 10 amps.

Images:

Video:
Pros and Cons:

Positives:

Great performance, features and energy efficiency – saves money on your electric bill.
Easy to install, easy to use.
It's very quiet. Should be mounted on a solid flat floor or vibration isolation pads to solve any vibration issues.
Excellent capacity for the overall size of the machine. Just to compare, it washes the same amount of clothes as the typical smaller commercial machine you find at a New York City laundromat.
If half loaded, it takes just 1 hour for clothes to wash and dry and just 1.5 hour for jackets and heavy wool items.
The clothes that come out feel great. They are soft without using fabric softener and clean with a minimum of soap.
It's ventless and uses condensation to make the vapour release its moisture and be pumped out along with cold water used for this purpose.
Uses very little water (70% less water).
You can interrupt the program at any time, change any setting or open the door, and then resume.

Negatives:

requires a 240V NEMA 6-15R receptacle and draws 10 amps.

Negatives common to all combos:

There is no exterior lint trap for the dryer. The lint tends to collect around the rubber seal and you have to empty that once a month depending on the frequency of use.
The clothes need to be free to tumble in order to dry completely. Fill only half of the drum if you're going to use the dry function.
Noisy water pump that expels the water from the machine – although active only intermittently during the wash and rinse cycle.
Produces a bit of heat.
Rating:

Design:
8/10
Capacity:
8/10
Features:
7/10
Wash & Dry Programs:
8/10
Money Savings:
8/10
Quiet:
9/10
Quality of Wash:
7/10
Quality of Dry:
9/10
Affordable:
9/10
Reliability:
7/10
Total Score: 80 %

Here you can find and compare user comments and prices from different online stores. Just a small advice – if you find a lot of positive reviews and some negative ones, it usually means that the complaining people don't use the machine properly, or received some defective piece.
Online Store
Price
Link
Amazon.com
$899.00
Purchase
AjMadison.com
$999.00
Purchase
Conclusion: The main drawback in comparison to other appliances in this category is probably the need for a 240V circuit.