RANK #3: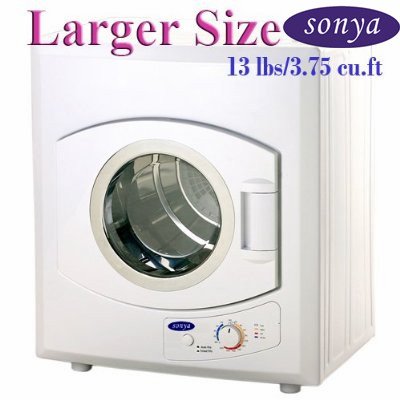 What we have here is a unique compact laundry dryer that incorporates the function and design of a full size dryer. If you're living in a small apartment, you need a minimized dryer that provides a great service. Sonya portable dryer is exactly the thing you need: an appliance that takes up a minimal amount of space in your small condominium or apartment. Before we tell you more about the features, you should know that this dryer requires electricity to work, so it's best to be placed near an electric outlet.
Details:
| | |
| --- | --- |
| Dimensions (WxHxD): | 23.6″ x 26″ x 21.2″ |
| Weight: | 48 lbs. |
| Capacity (cu.ft.): | 3.75 cu. ft. |
| Number of Drying Programs: | 2 |
Features:

Has a capacity of 3.75 cu. ft. / 13 lbs

Power source of 110V – 120 V / 50 Hz – 60 Hz and can be plugged anywhere you like.
Has a stainless steel drum transparent lid.
Wall mounting bracket and removable lint filter are also included.
Although small, it holds an impressive load of laundry.
Runs on four temperature selections: hot – dries large quantities or bulky items, warm – dries on warm temperature, leaving the clothes wrinkle-free, cool – generates cool air, air dry – runs with cool air to freshen the clothes.

Manual Dry Times:
From 20 to 200 minutes
Warranty:
1 Year Warranty
Drying Programs:
Auto dry: for small loading, automatic control heating, Timed dry: for large loading, work under timer controlled mode
Options:
/
Temperature Levels:
4 Dryer Temperature Selections: hot, warm, cool, air dry
Materials:
Drum: Stainless Steel, Top Plate: Painted Steel, Door Rim: Transparent Glass
Color:
White
Ratings Electrical Requirements:
Runs on standard voltage electricity (Power Source 120V, 60Hz, Rated Input 1400W / 800W)

Images:

Video:
Pros and Cons:

Positives:

It's an energy efficient 1400W dryer.
Uses half the energy used by a conventional dryer.
Offers great features.
Lint filter and wall bracket mount are added, which makes the dryer more convenient to use.
Has a great compact design that makes the perfect dryer for small apartments and condominiums.
It's lightweight, meaning you can move it any time you want to.

Negatives:

Repair might be hindered due to lack of nearby professional maintenance technicians.
Takes a little more time to dry a full load since it requires half of the standard dryer's voltage.

Negatives common to all dryers:

Some dryers may require a major time commitment for servicing or repairing.
Rating:

Design:
10/10
Capacity:
9/10
Features:
8/10
Drying Programs:
8/10
Money Savings:
10/10
Quiet:
10/10
Quality of Dry:
8/10
Speed of Dry:
8/10
Affordable:
10/10
Reliability:
10/10
Total Score: 91 %

Reviews and Prices:

Here you can find and compare user comments and prices from different online stores. Just a small advice – if you find a lot of positive reviews and some negative ones, it usually means that the complaining people don't use the machine properly, or received some defective piece.
Online Store
Price
Link
Amazon
$369.49
Details
Conclusion: There are plenty of positive comments and reviews for the Sonya portable laundry dryer, but it has some cons as well. However, if you need a small portable dryer that will save you some space, this appliance is a good choice. You have every right to be skeptical due to its size, but it comes at a reasonable price, so if you need a compact laundry dryer, give this dryer a chance.