RANK #8: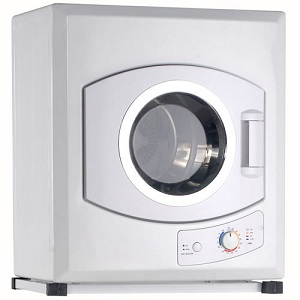 If you're living in a small apartment that doesn't have a high voltage outlet or a vent, you need a smart solution when it comes to buying a dryer that will fit in your apartment. Avanti 110-Volt Automatic Dryer is a portable dryer that dries clothes quite fast. However, there's one thing you should know: this dryer is good for small loads only. There are many attributes about this portable dryer and some not so great. Let's find out more about the features and specifications of the Avanti automatic dryer.
Details:
| | |
| --- | --- |
| Dimensions (WxHxD): | 23.8″ x 27.5″ x 17.2″ |
| Weight: | 44 lbs. |
| Capacity (cu.ft.): | 4 cu. ft. |
| Number of Drying Programs: | 2 |
Features:

Can be hooked up to a regular outlet.
Despite the compact size, the drum has 4 cu. ft. capacity.
Has multiple time/temperature settings.
It can take multiple shirts and jeans in one load.
Comes with user-friendly settings.
Doesn't move around and is quiet.
The drying time is short.
Compact design for dormitories, apartments, or recreational vehicles.
It's lightweight and easily portable.
Anti-wrinkle option, meaning your clothes will be gentle and fresh.

Manual Dry Times:
From 20 to 200 minutes.
Warranty:
1 Year Warranty
Drying Programs:
Auto Dry, Timed Dry
Options:
/
Temperature Levels:
4 Temperature Selections: Cool, How, Warm, Air Only
Materials:
Drum: Stainless Steel Drum
Color:
White
Ratings Electrical Requirements:
Dryer Power Source: Electric; Voltage: 120V.

Images:

Video:
Pros and Cons:

Positives:

Has air-dry function.
Has timed dry and auto dry settings for convenience and ease of use.
Comes with a see-through window for clear visibility.
Has multiple installation options, which means you can place it in different locations.
It's lightweight, which means you can move it any time you want to.
It's super quiet – you won't even know it's on.
Clothes come out wrinkle-free, not burning hot like other dryers.

Negatives:

It dries slower compared to standard voltage dryers (that's to be expected).
Repair might be hindered due to lack of nearby professional maintenance technicians.

Negatives common to all dryers:

Some dryers may require a major time commitment for servicing or repairing.
Rating:

Design:
9/10
Capacity:
8/10
Features:
8/10
Drying Programs:
8/10
Money Savings:
9/10
Quiet:
10/10
Quality of Dry:
8/10
Speed of Dry:
8/10
Affordable:
9/10
Reliability:
9/10
Total Score: 86 %

Reviews and Prices:

Here you can find and compare user comments and prices from different online stores. Just a small advice – if you find a lot of positive reviews and some negative ones, it usually means that the complaining people don't use the machine properly, or received some defective piece.
Online Store
Price
Link
Amazon
$284.99
Details
Conclusion:
This Avanti automatic dryer doesn't hold a huge amount of clothes, but it definitely dries them pretty quickly for 110V dryer. It fits in small spaces: for one or two people, it's the right size. Drying time takes about 30-90 minutes or so depending on the load. All in all, this dryer has great features, but if you want something super-hot or monster-sized, look elsewhere.