RANK: below TOP10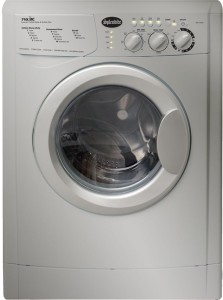 Splendide is a well-known brand when it comes to laundry appliances. We have the WD2100XCP and WD2100XC ranked on #7 and #8, which are, hands down, among the best combos ever made. In this review, we will introduce Splendide 7100XC combo, designed specifically for multifamily housing customers. The washing procedure is pretty much the same as the two aforementioned combos, but the drying is slightly different – with a unique condenser drying system. Efficient and effective, this ventless combo offers wide range of installation possibilities since it doesn't require outside venting.
Details:
| | |
| --- | --- |
| Dimensions (WxHxD): | 23.4″ x 33.5″ x 26″ x 22″ |
| Weight: | 148 lbs. |
| Capacity (cu.ft.): | 2.1 cu. ft. |
| Drying System: | Ventless Condensing |
| Number of Wash Programs: | 10 |
| Number of Dry Programs: | 3 |
Features:

Easy to use controls with LED display that shows the current cycle status.
Large 11.5″ door opening – great feature when it comes to loading and unloading.
Unique condenser drying technology that allows for better drying performance.
Great mobile durability due to well constructed internal components.
"Add-an-item" feature that allows you to add an item during the cycle.
Water level control that helps preventing overusing water.
15 lbs. wash capacity, 11 lbs. dry capacity.
Efficient and convenient drying cycles.

Spin Speed (Max):
1,200 RPM
Warranty:
1 year parts and labor.
Wash Programs:

Super, Heavy, Regular, Express, Cotton, Wool, Wool Dry, Silk, Delicates, Synthetics.

Dry Programs:
Rinse, Spin, Drain.
Wash Temp with cold rinse:
Hot, Warm, Cold.
Options:
Adjustable water temperature, low heat, bleach option, pre wash, extra rinse, low spin, silk and wool cycles, variable dry timer.
Tray Dispenser:
Bleach (with bin), prewash detergent (without bin), powder detergent, fabric softener.
Materials:
Stainless steel drum.
Color:
Platinum
Ratings Electrical Requirements:
Max. Current 11A, Rated Current 15A, Voltage 120V, Frequency 60Hz, Heating Power 1,300W.

Images:

Video:

Unfortunately, I couldn't find a video related to this appliance.
Pros and Cons:

Positives:

Energy and water efficient.
Super silent – you won't be disturbed when it's working.
Built tough in order to withstand the rigors or everyday use.
Automatic load balance system.
Low heat option.

Negatives:

It operates slowly.
Tricky to drain.
Users have experienced lint problems.

Negatives common to all combos:

There is no exterior lint trap for the dryer. The lint tends to collect around the rubber seal and you have to empty that once a month depending on the frequency of use.
The clothes need to be free to tumble in order to dry completely. Fill only half of the drum if you're going to use the dry function.
Noisy water pump that expels the water from the machine – although active only intermittently during the wash and rinse cycle.
Produces a bit of heat.
Rating:

Design:
6/10
Capacity:
8/10
Features:
8/10
Wash & Dry Programs:
7/10
Money Savings:
6/10
Quiet:
8/10
Quality of Wash:
6/10
Quality of Dry:
6/10
Affordable:
6/10
Reliability:
7/10
Total Score: 68 %
Reviews and Prices:

Here you can find and compare user comments and prices from different online stores. Just a small advice – if you find a lot of positive reviews and some negative ones, it usually means that the complaining people don't use the machine properly, or received some defective piece.
Online Store
Price
Link
CampingWorld.com
$1,130.08
Details
Amazon.com
$1,395.00
Details
Conclusion: A good capacity and more cycle options are the main reasons why this washer/dryer combo has a good customer satisfaction. However, the lint problems and the long performance are large drawbacks.