RANK: below TOP10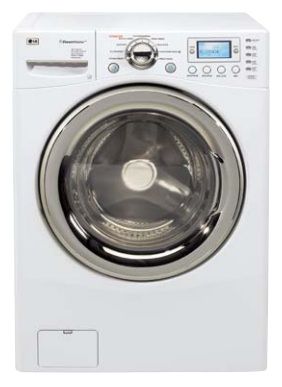 What we have here is another LG appliance. As you can see from our top 3, LG is one of our favorite brands. LG WM3988HWA is Energy Star rated combo that utilizes multiple integrated spray jets and direct-drive motor in order to provide maximum energy efficiency and quiet operation. It washes and dries clothes using 9 wash and 5 wash/dry programs. The steam cleaning cycle helps you eliminate the allergens from your clothes, which means you and your family can breathe more easily.
Details:
| | |
| --- | --- |
| Dimensions (WxHxD): | 27″ x 38 11/16″ x 29 3/4″ |
| Weight: | 201 lbs. |
| Capacity (cu.ft.): | 4.2. cu. ft. |
| Drying System: | Ventless Condensing Drying System |
| Number of Wash Programs: | 9 |
| Number of Dry Programs: | 5 |
Features:

The LG SteamFresh Cycle helps refresh your clothes and reduce wrinkles.
With Custom Program, you can save your favorite program.
SenseClean System is another plus as it sets wash time and water level automatically for the optimal wash.
Sanitary Cycle gets bacteria and tough stains with water at 158 F.
Allergiene cycle reduces certain allergens like pet dander and dust mites.
Anti-vibration motor, one-piece cabinet structure and LoDecibel Quiet System reduce noise.
Direct Drive motor for ultimate reliability and durability.
Washing convenience with the Delay Wash option by 19 hours.

Spin Speed (Max):
1320 RPM
Warranty:
1 year parts and labor; 2 years control board, 7 years motor, lifetime on the drum.
Wash Programs:
SteamFresh™, Sanitary, Bulky/Large, Perm. Press, Cotton/Normal, Delicates, Hand Wash/Wool, Speed Wash, Allergiene™
Wash/Dry Programs:
Sanitary, Perm. Press, Cotton/Normal, Allergiene™, Speed Wash.
Wash/Rinse Temps:
Cold/Cold, Warm/Cold, Warm/Warm, Hot/Cold, Extra Hot/Cold.
Options:
Prewash, Rinse & Spin, Stain Cycle, Extra Rinse, Drum Light, Water Plus, Tub Clean, Delay Wash up to 19 hours, SpinSense™, Steam, Language Selection.
Tray Dispenser:
4 Tray Dispenser: prewash, main Wash, bleach, softener.
Materials:
Porcelain cabinet top, chrome door rim, painted steel cabinet, plastic control panel.
Color:
White.
Ratings Electrical Requirements:
120V, 60Hz, 12 Amps

Images:

Video:
Pros and Cons:

Positives:

Highly water and energy efficient.
Quiet operation.
Intelligent Electronic Controls with blue LCD display.
You can program and delay a wash.
Great for those who have allergies.

Negatives:

Doesn't dry large loads.
Some users claim that the clothes come out twisted and wrinkled.
The labor and parts are pretty costly.

Negatives common to all combos:

There is no exterior lint trap for the dryer. The lint tends to collect around the rubber seal and you have to empty that once a month depending on the frequency of use.
The clothes need to be free to tumble in order to dry completely. Fill only half of the drum if you're going to use the dry function.
Noisy water pump that expels the water from the machine – although active only intermittently during the wash and rinse cycle.
Produces a bit of heat.
Rating:

Design:
7/10
Capacity:
9/10
Features:
7/10
Wash & Dry Programs:
7/10
Money Savings:
6/10
Quiet:
8/10
Quality of Wash:
8/10
Quality of Dry:
5/10
Affordable:
4/10
Reliability:
8/10
Total Score: 69 %
Reviews and Prices:

Here you can find and compare user comments and prices from different online stores. Just a small advice – if you find a lot of positive reviews and some negative ones, it usually means that the complaining people don't use the machine properly, or received some defective piece.
Online Store
Price
Link
Overstock.com
$1,899.00
Details
CompactAppliance.com
$1,417.50
Details
Conclusion: Yes, it's friendly and easy to use, and plus, it's LG. But still, the features and quality of dry are not so great. A normal wash/dry cycle takes about 3-4 hours, which is not bad at all, but the wrinkles, the quality of dry and price are drawbacks. For the cost of this combo, you'd expect an appliance way better, right?