RANK #8: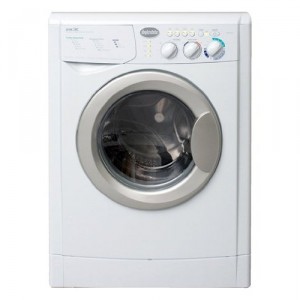 If you look at this combo, it looks like all the other I have reviewed so far, however it does differ in a significant way. The drying function requires venting the hot air outside, which might be a problem in some households. Basically you need to make a hole in the wall, or have it near a window or a door. Sometimes, you can see this model being sold under the name Westland WD2100XC. It's basically the same unit, just rebranded.
Details:
| | |
| --- | --- |
| Dimensions (WxHxD): | 23.4″ x 33.25″ x 22.0″ |
| Weight: | 148 lbs. |
| Capacity (cu.ft.): | DOE 2.1 |
| Drying System: | Vented |
| Number of Wash Programs: | 10 |
| Number of Dry Programs: | 3 |
Features:
Automatic Dispenser Drawer, Auto Water/Energy Control, Safety Door Lock, Express Wash, More Rinse Cycles, Foam Removal System, Automatic Balance System, Impulse Spin Technology.
Spin Speed (Max):
1200 RPM
Warranty:
1 year parts and labor
Wash Programs:
Super, Heavy, Regular, Express, Cotton, Wool, Wool Dry, Silk, Delicates, Synthetics.
Dry Programs:
Rinse, Spin, Drain
Tray Dispenser:
PreWash Detergent (With Bleach Bin removed), Detergent for the Wash Cycle (Powder or Liquid), Fabric Softener, Bleach (With Bleach Bin in place).
Materials:
Drum: Stainless Steel, Cabinet: Painted Steel, Control Panel: Plastic, Top Plate: LPM Board, Door Rim: Chrome
Color:
White
Ratings Electrical Requirements:
Standard voltage electricity (UL Listed /120V, 60Hz, 11Amps)

Images:

Video:
Pros and Cons:

Positives:

Good capacity.
Easy to install, easy to use.
Quiet.
Uses little water.
Energy efficient.
Low Maintenance – Lint passes safely through a 'self-cleaning pump' and then out the drain or dryer vent – so there's no messy wash or dry filter for you to clean.

Negatives:

It uses a vented system so you will have to deal with the hot steam and vent it outside.

Negatives common to all combos:

There is no exterior lint trap for the dryer. The lint tends to collect around the rubber seal and you have to empty that once a month depending on the frequency of use.
The clothes need to be free to tumble in order to dry completely. Fill only half of the drum if you're going to use the dry function.
Noisy water pump that expels the water from the machine – although active only intermittently during the wash and rinse cycle.
Produces a bit of heat.
Rating:

Design:
5/10
Capacity:
8/10
Features:
8/10
Wash & Dry Programs:
8/10
Money Savings:
7/10
Quiet:
7/10
Quality of Wash:
8/10
Quality of Dry:
6/10
Affordable:
6/10
Reliability:
7/10
Total Score: 70
Here you can find and compare user comments and prices from different online stores. Just a small advice – if you find a lot of positive reviews and some negative ones, it usually means that the complaining people don't use the machine properly, or received some defective piece.
Online Store
Price
Link
Amazon
$1,328.07
Purchase
Conclusion: If you are OK with the vented system, this machine doesn't have any significant drawbacks.