RANK #4: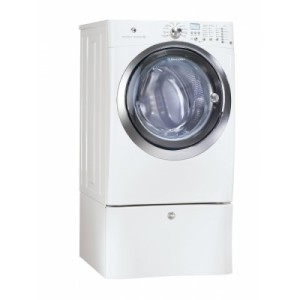 This is another Electrolux model that will surely make home living way easier that what it is. It cleans clothes in a fast and efficient way without any noise or problems. This product is also capable of different kinds of programs so that you will never run out of choices and have a hard time when it comes to different kinds of clothing material for you to clean up. I ranked it highly  – as a number 4 as I found really a lot of positive reviews  and I think it will make your laundry time a break time while you wait for your clothes to get cleaned to look as brand new again.
Details:
| | |
| --- | --- |
| Dimensions (WxHxD): | 38 x 27 x 31.5 inches |
| Weight: | 237 pounds |
| Capacity (cu.ft.): | 4.7 cu ft. |
| Number of Wash Programs: | 17 |
Features:
– IQ-Touch™ Controls: The IQ-Touch™ control panel offers 12 unique wash cycles/options you need — including a "My Favorite" setting.
– AquaLux Wash System: Advanced wash technology includes wash motions and bottom-vent steam options with superior cleaning performance.
– Fast Wash Cycle: Only 18 minutes to wash.
– Perfect Balance® System: very little vibration. Its technology keeps even oversized wash loads balanced for smooth, quiet operation. Perfect for installation upstairs – even near bedrooms.
– Luxury-Design® Lighting: Inside you can find a really cool looking lighting, which also provides visibility inside your washer, so you can conveniently find any article of clothing.
– Eco-Friendly: Gentle on the environment and your clothes. Washers are 75% more energy efficient4 and use 56% less water.
– Touch-2-OpenTM Door: Washer door opens and closes easily with just a light touch.
– Automatic Water-Level Adjustment
Spin Speed (Max):
1,200 RPM
Warranty:
1 year – parts1 year – labor
Wash Programs:
Fast wash, My favorites, deep clean sanitize, heavy duty, whites, colors, normal, active, steam prewash, kids wear, fast steam, spin only, jeans, fast sanitize, stuffed animals, pet beds, clean washer.
Wash/Rinse Temps:
Extra Hot, Hot, Warm, Cold, Tap Cold
Options:
– Individual Custom Options: 1
– Wash/Rinse Temperature Combinations: 9
– Spin Speed Selections: 5
– Soil Level Selections: 5
– Delay Start (Hours): 14
– End-of-Cycle Chime: Adjustable
Tray Dispenser:
– Auto Prewash Detergent Dispenser: Liquid / Powder
– Auto Bleach Dispenser: Liquid Only
– Auto Detergent Dispenser: Liquid / Powder
–

Auto Fabric Softener Dispenser: Liquid Only

Materials:
Drum: Stainless Steel
Color:
Island White
Ratings Electrical Requirements:
Runs on standard voltage electricity (UL Listed /120V, 60Hz, 10Amps)

Images:

Video:
Pros and Cons:

Positives:

Has a neat design
Have many settings to choose from.
Can clean any kinds of clothing quality.
Easy to install.
Easy to use.
Lets you use the right amount of water.
Cleans all angles of the clothing.
Does not ruin your clothing.
Very durable
Quiet whenever it is running.

Negatives:

The rubber gasket in the washer can get easily mildewed and even frequent cleaning with bleach is not sufficient.

Negatives common to all front-load washers:

Poor customer service for those with errors.
Machine does not work perfectly if not installed in the perfect way, and will just waste your time.
Rating:

Design:
9/10
Capacity:
9/10
Features:
8/10
Wash Programs:
8/10
Money Savings:
9/10
Quiet:
9/10
Quality of Wash:
9/10
Speed of Wash:
8/10
Affordable:
9/10
Reliability:
9/10
Total Score: 87 %

Reviews and Prices:

Below, you can find and compare user reviews and prices from different online stores where you can buy Electolux EIFLS55IWW. Just a small tip – if you find a lot of positive reviews and some negative ones. It usually means that the user who left negative reviews don't use the machine properly or received defective units.
Online Store
Price
Link
TotalHomeSupply.com
$999
DETAILS
Amazon.com
$999
DETAILS 
Conclusion: 
As you can see from the photo, very nice piece of a machine by the notorious company in this field – Electrolux. It stands out mainly because of the above average capacity of 4.7 cu. ft. which is really huge when you compare it to other washers. Furthermore and not less important at all, are the huge amount of advanced technology features, great quiet performance and reliability, which you can tell by reading reviews of people owning this washer.