RANK #7: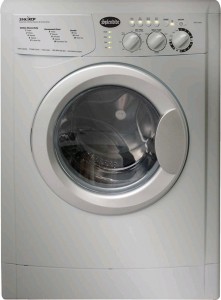 Splendide WD2100XCP is the nicer and luxurious version of the model WD2100XC having all features and dimensions just the same. The attractive color is made by the platinum painting that was used. I personally don't really like this color but I know some people actually love it so I guess it's just up to one's individual taste. As you can see from the picture, it doesn't have any display what so ever. This model focuses just at the basics and simplicity. It reminds me the older machines and for this reason even if it did a great job with cleaning and drying, I personally wouldn't be thinking about buying this model. However, that's just me, let's see some technical details.
Details:
| | |
| --- | --- |
| Dimensions (WxHxD): | 23.4″ x 33.25″ x 22.0″ |
| Weight: | 148 lbs. |
| Capacity (cu.ft.): | DOE 2.1 |
| Drying System: | Vented |
| Number of Wash Programs: | 10 |
| Number of Dry Programs: | 3 |
Features:
Automatic Dispenser Drawer, Auto Water/Energy Control, Safety Door Lock, Express Wash(Ideal to wash smaller loads of lightly soiled clothes and save 40% of time.), More Rinse Cycles, Foam Removal System(Automatically measures the amount of detergent suds in circulation during the rinse cycle and removes excess foam for better rinsing results.), Automatic Balance System(Adjusts speed and repositions the load automatically.), Impulse Spin Technology(Varies pulse in low spin instead of operating at a constant speed, which results in less wrinkling, noise, and vibration and better rinse efficiency).
Spin Speed (Max):
1200 RPM
Warranty:
1 year parts and labor
Wash Programs:
Super, Heavy, Regular, Express, Cotton, Wool, Wool Dry, Silk, Delicates, Synthetics.
Dry Programs:
Rinse, Spin, Drain
Tray Dispenser:
PreWash Detergent (With Bleach Bin removed), Detergent for the Wash Cycle (Powder or Liquid), Fabric Softener, Bleach (With Bleach Bin in place).
Materials:
Drum: Stainless Steel, Cabinet: Painted Steel, Control Panel: Plastic, Top Plate: LPM Board, Door Rim: Chrome
Color:
Platinum
Ratings Electrical Requirements:
Standard voltage electricity (UL Listed /120V, 60Hz, 11Amps)

Images:

Video:

I'm sorry, but this is the same video as I showed you in the review of the WD2100XC version (the same features, but white design) as I couldn't find a video review for the platinum design (WD2100XCP).
Pros and Cons:

Positives:

Good capacity.
Easy to install, easy to use.
Quiet.
Uses little water.
Energy efficient.
Low Maintenance – Lint passes safely through a 'self-cleaning pump' and then out the drain or dryer vent – so there's no messy wash or dry filter for you to clean.

Negatives:

It uses vented system so you will have to deal with the hot steam and vent it outside.

Negatives common to all combos:

The clothes need to be free to tumble in order to dry completely. Fill only half of the drum if you're going to use the dry function.
Noisy water pump that expels the water from the machine – although active only intermittently during the wash and rinse cycle.
Produces a bit of heat.
Rating:

Design:
6/10
Capacity:
8/10
Features:
8/10
Wash & Dry Programs:
8/10
Money Savings:
7/10
Quiet:
7/10
Quality of Wash:
8/10
Quality of Dry:
6/10
Affordable:
6/10
Reliability:
7/10
Total Score: 71
Here you can find and compare user comments and prices from different online stores. Just a small advice – if you find a lot of positive reviews and some negative ones, it usually means that the complaining people don't use the machine properly, or received some defective piece.
Online Store
Price
Link
Amazon
$1,471.29
Purchase
Conclusion: Splendide washer dryer/combo models WD2100XC and WD2100XCP are the same, but the latter has a nice modern design, which is also reflected in the price costing roughly $200 more.