RANK #7: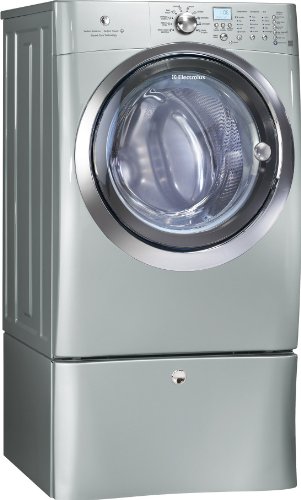 If you are looking for a heavy-duty washer capable of above average loads, you are looking at a very viable option for you. The design is very nice and pretty luxurious I would say. I get this sensation when looking at this washer mainly because of the platinum-like color and the super cool light inside of the drum. It has a really huge amount of different special functions as well. You might be asking why I put it on the 7th position. Well, it's always hard to do the ratings the most correct way possible. In the case of this model, its shine, great design and function still couldn't beat the fact that I have found more negative reviews on this model than on the better ranked models. But, I'm don't get me wrong, I'm not saying it's a faulty device or anything similar. There are simply 6 washers that I find to be better to spend money on.
Details:
| | |
| --- | --- |
| Dimensions (WxHxD): | 27" x 38" x 31 ½" |
| Weight: | 237 lbs. |
| Capacity (cu.ft.): | 4.30 Cu. Ft. |
| Number of Wash Programs: | 17 |
Features:
ExpertCare ™ Wash System (a feature that allows different wash motion, with bottom-vent steam options for a more advanced cleaning performance), Perfect Steam™ Washer (an option that allows you to add steam for deeper cleaning), Fastest Wash Time (as short as 15 minutes), Sure-2-Fit © Capacity Washer (this is the feature that allows you to wash more than the usual in just one load), Reversible Door, IQ-Touch™ Controls (so you don't have to set up options every time, this washer remembers your most-used options), Platinum Star© Limited Warranty, "My Favorite" Settings, Perfect Balance©System (ensures less vibration for less noise),  Interior Lighting, Eco Friendly, Energy Star recognized, Touch-2-Open™Door (the washer door is easy to open and close in just a touch), NSF©Certified Allergen Cycle (a special cycle that clears 95% of all the common allergens), Delay Start, Last Cycle Recall, Automatic Water-Level Adjustment, Optional Pedestal Drawer
Spin Speed (Max):
1300 RPM
Warranty:
Platinum Star ©Limited Warranty: 3 years coverage on parts and 1 year on labor without charge.
Wash Programs:
Normal Cycles: Allergen, Casual, Clean Washer, Delicates, Active Wear, Heavy Duty, Normal, Fast Wash, Rinse and Spin, Deep Clean Sanitize, Whites, Colors; Special Cycles: Active Wear, Jeans, Fast Steam, Pet Beds, Stuffed Animals
Wash/Rinse Temps:
Cold, Hot, Sanitize, Warm, Eco Cold
Options:
Add Steam, Cleanest Front Load Wash, Delay Start (for up to 22 hours), Energy Saver, Freshwater Rinse, Prewash, Stain Pretreat, Adjustable End of Cycle Chime, Control Lock
Tray Dispenser:
Main Wash (Liquid Only), Main Wash, Prewash, Liquid Bleach, Fabric Softener
Materials:
Wash Drum: Stainless Steel, Lens Ring: Chrome
Color:
Platinum
Ratings Electrical Requirements:
120 V / 60 Hz / 12 Amps

Images:

Video:
Pros and Cons:

Positives:

It is very stylish, especially if you favor steel-looking washers than the usual white.
It offers a lot of wash cycles.
Simple to use wash cycle options and user-friendly menu to make your laundry time easy, no matter what you want to wash – from stuffed animals to pet beds, from jeans to delicate materials.
Even though it is heavy duty, this washer doesn't take a lot of energy and water to operate, so you actually end up saving some money
Allergen-free option is available for people with special laundry needs.

Negatives:

Even though it claims to have a "Luxury-Quiet" Option, there are still other washers more quiet than this Electrolux washer in the market.
This washer proves to be a bit more expensive compared to others. (But it definitely makes up for it for the energy, time, electricity, and water you save!)

Negatives common to all front-load washers:

Could be hard to install.
Problems with correct functioning if not installed properly.
Rating:

Design:
9/10
Capacity:
8/10
Features:
8/10
Wash Programs:
8/10
Money Savings:
8/10
Quiet:
8/10
Quality of Wash:
8/10
Speed of Wash:
9/10
Affordable:
7/10
Reliability:
8/10
Total Score: 81 %

Reviews and Prices:

Here you can find and compare user comments and prices from different online stores. Please keep in mind that if you find a lot of positive reviews and some negative ones, it usually means that the complaining people don't use the machine properly, or received some defective piece.
Online Store
Price
Link
Amazon.com
$1,099.99
Details
Electrolux.com
$1,399.00
Details
Conclusion: If you want a washer that has it all and does it all, then this is the washer for you. It allows you to wash more clothes with more wash options. What more can you ask for? This washer is a definite must-have, especially if you already have a dryer.