RANK #2: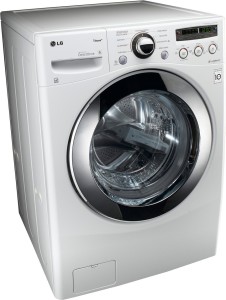 LG has once again released another awesome product for home purposes. This really popular company is known to produce different kinds of appliances that made home living convenient, and chores into an easy habit to do. This washer is known to provide another convenient way of doing those morning or afternoon chores where you need to clean those dirty clothes so you can wear them for next week or if you have a special occasion. This washer has high end technology that will make laundry cleaning into a break time that you deserve after cleaning the house.
Details:
| | |
| --- | --- |
| Dimensions (WxHxD): | 29.8 x 27 x 38.7 inches |
| Weight: | 193 pounds |
| Capacity (cu.ft.): | 4.42 cu ft. |
| Number of Wash Programs: | 9 |
Features:
This product is capable of doing ColdWash Technology which makes the clothes wet in all sides of it, and washes it thoroughly in order to completely remove the dirt on the clothes. It has a 6Motion Technology which makes it a powerful washing machine that can clean any kinds of clothing as effective as an expert laundryman's hands, but with better speed. It has a Steam Technology which makes drying easier for the clothes as the laundry process gets finished.
Spin Speed (Max):
1,400 RPM
Warranty:
1 year for both parts and labor
Wash Programs:
Cotton/Normal, Bulky/Large, Perm. Press, Delicates, Hand Wash/Wool, Speed Wash, Sanitary, Allergiene™, Tub Clean
Wash/Rinse Temps:
Extra Hot, Hot, Warm, Cold, Tap Cold (All Cold Rinses)
Options:
Prewash, Rinse+Spin, Delay Wash, Water Plus, Extra Rinse, Child Lock, ColdWash™, Steam, Signal On/Off
Tray Dispenser:
Prewash, Rinse+Spin, Delay Wash, Water Plus, Extra Rinse, Child Lock, ColdWash™, Steam, Signal On/Off
Materials:
Drum: NeveRust™ Stainless Steel Drum, Cabinet: PCM, Control Panel: Plastic, Top Plate: Painted, Door Rim: Chrome/Glass
Color:
White
Ratings Electrical Requirements:
Runs on standard voltage electricity (UL Listed /120V, 60Hz, 10 Amps)

Images:

Video:
Pros and Cons:

Positives:

Splendid design.
Different programs for different purposes.
Cleans clothes and other things perfectly when it comes to laundry.
Easy to install
Easy to use.
Uses the right amount of water for cleaning clothes.
Cleans every part of the clothing with its mechanism.
Dries up fast and effective on all parts of the clothes without damaging it.

Negatives:

Have errors with the loading system indicator.

Negatives common to all front-load washers:

Some of its compartments might leak.
Rating:

Design:

10/10

Capacity:
8/10
Features:
9/10
Wash Programs:

10/10

Money Savings:
8/10
Quiet:
9/10
Quality of Wash:
9/10
Speed of Wash:
9/10
Affordable:
9/10
Reliability:
9/10
Total Score: 90 %

Reviews and Prices:

Here you can find and compare user comments and prices from different online stores. Just a small advice – if you find a lot of positive reviews and some negative ones, it usually means that the complaining people don't use the machine properly, or received some defective piece.
Online Store
Price
Link
LG.com
$899
DETAILS
Amazon.com
$902.99 & FREE Shipping
DETAILS
Conclusion: 
What I really like about this appliance is that by buying it you actually get a really high technology, modern and reliable washer and pay so little. There are washers with much less functions, complaining customers and other disadvantages and cost more. These were one more less the reasons I decided to place it on the second spot of my ranking chart. I cannot really tell anything bad about this washer even if I wanted. It simply really does its job and you can find mainly positive customer reviews.