RANK: below TOP10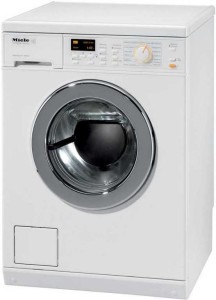 Miele have worked hard in order to ensure that their combo units are enduring and reliable. Their units have been put through many tests to ensure top-notch and trouble-free operating and performance for many years. Their attention to even the tiniest details is evident in all parts of their combos. The best Miele machine I have found so far is however the model: Miele W3038
What we have here is the Miele WT2670WPM washer/dryer combo – a combo that receives both good and bad reviews. Some of the features included in this unit are integrated dryer, fabric softener dispenser, electronic controls and delay start, to name a few. Let's check out the main details.
Details:
| | |
| --- | --- |
| Dimensions (WxHxD): | 595mm x 850mm x 580mm / 23.4″ x 33.4″ x 22.8″ |
| Weight: | 101 kg / 222 lbs. |
| Capacity (kg): | Washing Capacity 5.0 kg; Drying Capacity 2.5 kg |
| Drying System: | Ventless Condensing |
| Number of Wash Programs: | 16 |
| Number of Dry Programs: | 7 |
Features:

System Lock – prevents the unit being used without you knowing.
Load Size Sensor – automatically senses and adapts to the load's size and uses just the right amount of water to thoroughly clean the clothes.
Adaptive Wash Cycles – provides a combination of various cleaning fabric care.
Automatic Load Adjustment – with fuzzy logic for energy, water and time saving.
Delay Start Option – you can delay your load of laundry up to 24 hours.
Honeycomb Drum – top-notch care of your clothes because the drum's design creates a safe thin film that protects the clothes while washing and drying.
Waterproof System – you're safe from water damage.
LCD Display – for detailed program information.
Electronic moisture monitoring – no under- or over-drying.
"Without Spin" option – great for protecting your gentle fabrics.

Spin Speed (Max):
1600 RPM
Warranty:
5 years parts and labor.
Wash Programs:
Dark Garments, Denim, Shirts, Outwear, Sportswear, Curtains, Proofing, Starch, Separate Rinse, Cottons, Minimum Iron, Express, Delicates, Silk, Automatic Cold, Woollens.
Dry Programs:
Freshen Up, Timed Drying, Smoothing, Machine Iron, Hand Iron, Normal, Extra Dry.
Wash/Rinse Temps:
n/a
Options:
Pre-wash, Short, Soak, Water Plus.
Tray Dispenser:
Pre-wash, Main Wash, Softener.
Materials:
High-quality chrome door, enamelled side and front, honeycomb drum type.
Color:
White
Ratings Electrical Requirements:
A+ energy rating – 230 V

Images:

Video:
Pros and Cons:

Positives:

Quiet operation.
Start-up timer.
Superior washing with different wash cycles.
Incredibly convenient.
Gentle on clothes.
Economical and fast.

Negatives:

Small capacity.
Expensive.
Detergent residue is sometimes left on fine sheets.
Complicated to use.
Doesn't dry properly.

Negatives common to all combos:

There is no exterior lint trap for the dryer. The lint tends to collect around the rubber seal and you have to empty that once a month depending on the frequency of use.
The clothes need to be free to tumble in order to dry completely. Fill only half of the drum if you're going to use the dry function.
Noisy water pump that expels the water from the machine – although active only intermittently during the wash and rinse cycle.
Produces a bit of heat.
Rating:

Design:
7/10
Capacity:
5/10
Features:
9/10
Wash & Dry Programs:
7/10
Money Savings:
7/10
Quiet:
8/10
Quality of Wash:
8/10
Quality of Dry:
4/10
Affordable:
5/10
Reliability:
7/10
Total Score: 67 %
Reviews and Prices:

Here you can find and compare user comments and prices from different online stores. Just a small advice – if you find a lot of positive reviews and some negative ones, it usually means that the complaining people don't use the machine properly, or received some defective piece.
Online Store
Price
Link
Tradingpost
$1,200
DISCONTINUED
Conclusion: Families, renters and busy people alike will be pretty satisfied with the functionality and dependability of this unit. The handy selection of the washing/drying cycles allows you to wash and dry all kinds of fabrics easily. However, if you ask me, there are way better washer dryer combos for the same price, so if Miele isn't fulfilling your expectations, don't worry; you're not the only one. All in all, the washing part of this combo is great, but the same cannot be said about the drying part.