RANK #3: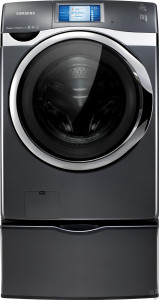 Samsung is one of the well known companies that provide different appliances, and of course your favorite gadgets.  It is still one of the leading brands when it comes to appliances for home living purposes such as entertainment, temperature and other things that involve cleaning and cooking. Now, I'm sure that you noticed a big difference from other washers as well as I did just by a quick look at this machine. The great modern design with its large touch screen is a really cool feature that makes this washer stand out significantly. In my personal opinion, this is the most luxurious looking washer I've seen so far. But let's have a look at its properties as well, which is equally or even more important.
Details:
| | |
| --- | --- |
| Dimensions (WxHxD): | 35.2 x 29.4 x 41.8 inches |
| Weight: | 225 pounds |
| Capacity (cu.ft.): | 4.5 cu ft. |
| Number of Wash Programs: | 21 Preset Wash Cycles (all cycles use PowerFoamTM technology with the exception of Rinse and Spin) |
Features:
 – 8″ Touch Screen LCD
– Smart Control: Capability to send your smartphone a notification after your laundry is finished. Furthermore you have also a remote control access to your machine. You can simply monitor your the washing from any other room of your house, or even outside. For this to work you need a Wireless network installed at home. Smart Control app available for iPhone 4/4S and Galaxy S1/S2.
– SpeedSpray: This way the classic wash cycle can be even 15 minutes shorter. The Cleansing jet shoots water and dissolved detergent directly onto clothes, which makes cleaning to happen even faster. Additionally the Rinsing jet showers clean tap water and drains water simultaneously.
– VRT PlusTM – Quiet Operation, Perfect for 2nd Floor Installation
– PowerFoamTM – Effi cient, Deep Clean
– Eco Cold Wash
– Steam Washing
– Smart Grid Capable
– Diamond DrumTM – For Gentler Washing
– PureCycleTM – A Washer that Cleans Itself
– Direct Drive Motor
– Internal Water Heater
Spin Speed (Max):
1,200 RPM
Warranty:
(1) Year All Parts and Labor Two
(2) Years Control Board Three (3) Years Stainless Steel Tub
(10) Years Motor
Wash Programs:
– Eco Cold Wash, Normal, Heavy Duty,
– Permanent Press, Sanitize, BeddingPlus,
– Deep Steam, Stain Away, Active Wear,
– Delicates / Hand Wash, Wool, Quick Wash,
– Rinse and Spin, 6 Specialty Cycles, Spin Only,
– PureCycle™
Wash/Rinse Temps:
Extra Hot / Cold, Hot / Cold, Warm / Warm, Warm / Cold, Eco Warm / Cold, Cold / Cold
Options:
Steam, Delay Start, My Cycle, Pre Wash, Extra Rinse, Extended Spin, Signal On / Off Button, Garment +, Drum Light, Child Lock, Smart Control, Smart Care
Tray Dispenser:
Bleach
Main
Pre-wash
Fabric Softener
Materials:
Drum: Stainless Steel
Color:
Onyx
Ratings Electrical Requirements:
Runs on standard voltage electricity (UL Listed /120V, 60Hz, 10Amps)

Images:

Video:
Pros and Cons:

Positives:

Excellent Design
Cleans clothes quickly
Very Durable
High End Technology
Powerful in cleaning
Very Easy to Use
Saves money by using the water and electricity efficiently
Will never disturb you because it's quiet
Will never destroy your clothing
Brings the clothes back to its brand new quality

Negatives:

The price is probably the only significant negative I can think of based on what I searched on the internet. Of course that you can find also some negative comments, but they are always there and when I take it as a whole and make a comparison with other models, this one stands out very well.


Negatives common to all front-load washers:

Poor customer service for those with errors.
Machine does not work perfectly if not installed in the perfect way, and will just waste your time.
Rating:

Design:

10/10

Capacity:
9/10
Features:

10/10

Wash Programs:

10/10

Money Savings:
8/10
Quiet:
9/10
Quality of Wash:
9/10
Speed of Wash:
8/10
Affordable:
7/10
Reliability:
8/10
Total Score: 88 %

Reviews and Prices:

You can find and compare prices and reviews of the product from different online stores. Just a small advice, if you find that a lot of customers left positive reviews and some negative ones, it usually means that the complaining people don't use the machine properly or that they received a defective unit.
Online Store
Price
Link
 GerhardsAppliance.com
$1,494.00
DETAILS
Amazon.com
$1,448.10
DETAILS
Conclusion:
The strongest side of this appliance is obviously the luxurious design, large and beautiful LCD panel, and wireless management. Plus, I cannot forget about the huge capacity of 4.5 cu. ft. which more than enough for even some big families. Thanks to it's high technology features and great customer reviews, it really deserves to be listed at least as a number 4 front-load washer on the top10 rank table.