RANK #11: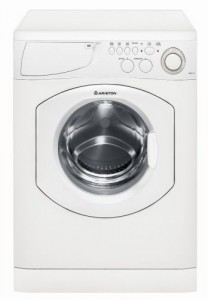 Ariston manufacturers state on their official website that the drying takes about 5 hours, which is very surprising and disappointing to me. The things is that with most combos, if you keep the rule of thumb and don't fill the drum to the last inch of available space, you should be good to go. Practically somewhere around 3 hours should be really enough to get your mixed clothes nice and dry. Anyway let's have a look at this model in detail. I have already reviewed the platinum color version – AWD129NA, and can say that there is really no difference besides the color. Again, the design is very simple and no LCD display makes it look way too older than it actually is.
Details:
| | |
| --- | --- |
| Dimensions (WxHxD): | 23.43″ x 33.47″ x 24″ |
| Weight: | 137.3 lbs. |
| Capacity (cu.ft.): | DOE 1.65 |
| Drying System: | Ventless Condensing |
| Number of Wash Programs: | 9 |
| Number of Dry Programs: | 4 |
Features:
Energy Star certified, Stain Removal / Bleach option, Delay Timer (up to 12 hs), Easy Iron option, Extra Rinse option, Throttle down spin speed regulation, Pre-wash option.
Spin Speed (Max):
1200 RPM
Warranty:
1 year parts and labor
Wash Programs:
Cotton Wash, Synthetic, Wool, Silk, Permanent Press Wash, Delicates Wash, Pre-Wash, Easy Iron, Soaking.
Dry Programs:
Rinse, Spin, Normal Dry, Drain
Tray Dispenser:
3 – Prewash, regular detergent, and fabric softener.
Materials:
Drum: Stainless Steel, Cabinet: Painted Steel, Control Panel: Plastic, Door Rim: Chrome
Color:
White
Ratings Electrical Requirements:
Standard voltage electricity (120V 60 Hz 15 amp)

Images:

Video:

Unfortunately, I couldn't find a video review for this model of the washer dryer combo.
Pros and Cons:

Positives:

Easy to install, easy to use.
It's ventless and uses condensation to make the vapour release its moisture and be pumped out along with cold water used for this purpose.
Uses little water.

Negatives:

Too long to wash and dry – about 5 hours
Capacity is very small.
It's too noisy
The washer doesn't clean very well.
The softener and bleach dispenser does not dispense evenly nor entirely.
The dryer may leave a very odd metallic/burnt-oily smell in your clothes.
Clothes form a solid compact wrinkled mass when the dryer is used and the "Easy Iron" button makes no difference.
Possible warranty issues – the manufacturer doesn't have presence in the United States.

Negatives common to all combos:

There is no exterior lint trap for the dryer. The lint tends to collect around the rubber seal and you have to empty that once a month depending on the frequency of use.
The clothes need to be free to tumble in order to dry completely. Fill only half of the drum if you're going to use the dry function.
Noisy water pump that expels the water from the machine – although active only intermittently during the wash and rinse cycle.
Produces a bit of heat.
Rating:

Design:
5/10
Capacity:
5/10
Features:
8/10
Wash & Dry Programs:
6/10
Money Savings:
6/10
Quiet:
6/10
Quality of Wash:
7/10
Quality of Dry:
6/10
Affordable:

7/10
Reliability:
8/10
Total Score: 64

Here you can find and compare user comments and prices from different online stores. Just a small advice – if you find a lot of positive reviews and some negative ones, it usually means that the complaining people don't use the machine properly, or received some defective piece.
Online Store
Price
Link
Amazon
$1,099.00
Purchase
AjMadison
$1,049.00
Purchase
Conclusion: This is honestly one of the worst washer dryer combos I have reviewed so far together with the other Ariston model – AWD129NA. Users usually complain about its washing and drying capabilities. The capacity is also very small.