RANK #5: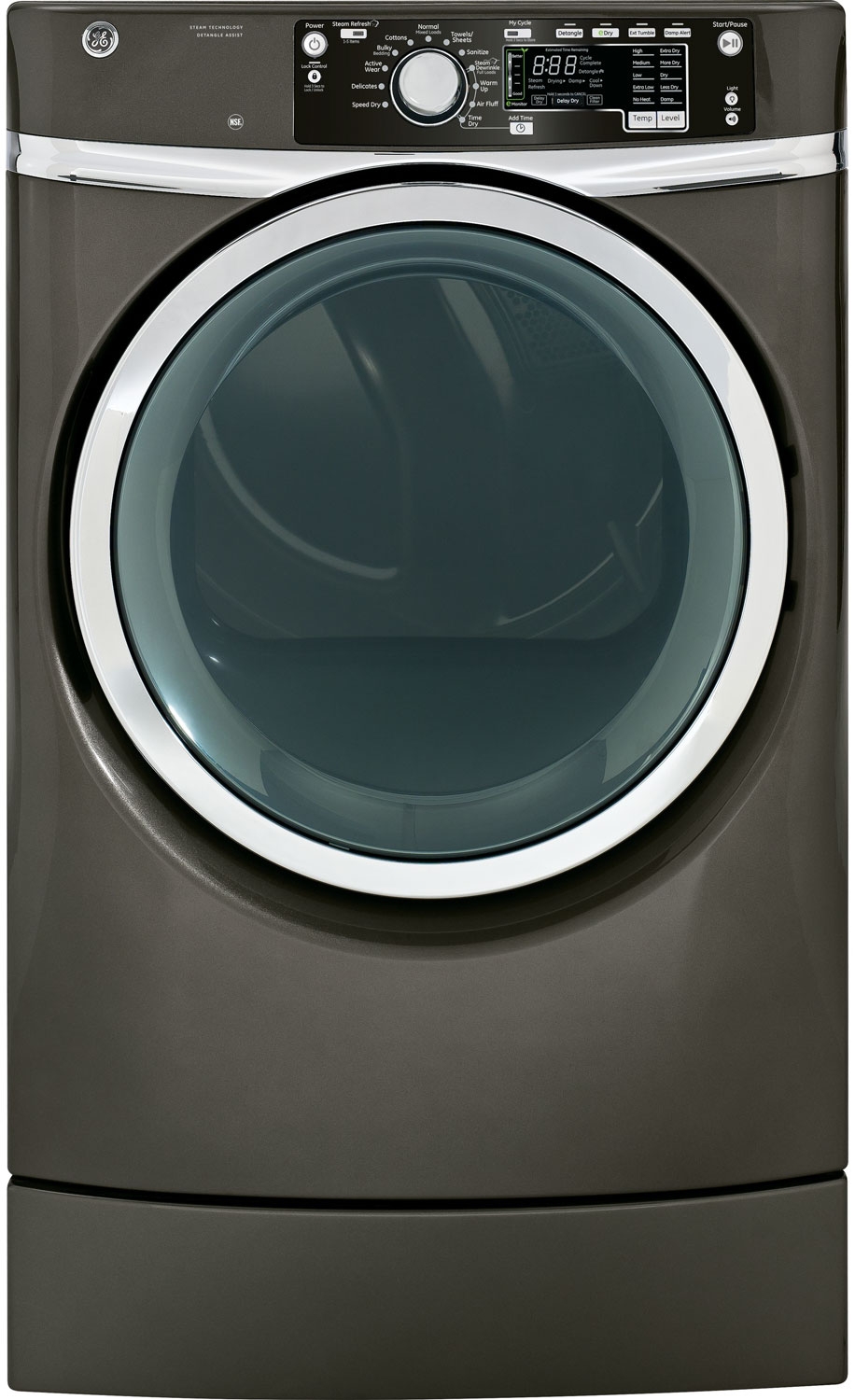 GE appliances simplify routines, define trends and answer real-life answers; not to mention they also upgrade the feel and look of your living space. The GE GFDR485EFMC is a dryer known for its long-lasting durability features. The HE SensorDry with dual thermistors monitors temperature and moisture to prevent wear and tear of clothing due to inconsistent heat and over-drying. Twisted comforters and sheets now belong to the past, as the Detangle Assist of this dryer pauses and reverses direction in order to reduce wrinkles and separate items.
Details:
| | |
| --- | --- |
| Dimensions (WxHxD): | 28″ x 47″ x 34 3/8″ |
| Weight: | Net Weight: 173 lbs.; Approximate Shipping Weight: 188 lbs. |
| Capacity (cu.ft.): | 8.3. cu. ft. |
| Number of Drying Programs: | 12 |
Features:

He Sensor Dry keeps your clothes feeling and looking their best thanks to the dual thermistors that monitor temperature and moisture to prevent wear and tear of clothing due to inconsistent heat and over-drying.
Built-in Riser comfortably loads and unloads clothes and also uses the top as a folding surface with this factory-installed built-in riser.
Stainless Steel Drum helps protect clothing.
Detangle Assist – as mentioned in the intro, it pauses and reverses direction in order to reduce wrinkles and separate items, which means you can say goodbye to twisted comforters and sheets.
LED Light – thanks to the bright, long-lasting and energy-efficient LED light, you can now find the mysterious socks.
Steam Refresh rejuvenates lightly worn garments by getting rid of odors and wrinkles with the steam refresh setting.
Steam Dewrinkle is a powerful setting that uses steam for refreshing and drying loads of any size, so your clothes will be wrinkle-free.

Timed Dry:
90 Minutes
Warranty:
1 Year Labor Warranty; 1 Year Parts Warranty
Drying Programs:
Normal/Mixed Load, Delicates, Bulky/Bedding, Active Wear, Towels/Sheets, Cottons, Steam Dewrinkle, Speed Dry, Warm Up, NSF Sanitize, Timed Dry, Air Fluff
Dryness Levels:
Damp, Less Dry, Dry, More Dry, Extra Dry
Temperature Levels:
No Heat, Extra Low, Low, Medium, High
Materials:
Drum: Stainless Steel, Handle: Chrome Pocket Handle Door, Control Panel: Metallic Black Lens, Trim Accents: Chrome Accents, Door Rim: Transparent Glass
Color:
Metallic Carbon
Ratings Electrical Requirements:
Runs on standard voltage electricity (ADA Compliant – 120/240V 60Hz, 25 AMPS, 5400W)

Images:

Video:

I couldn't find a video related to this appliance.
Pros and Cons:

Positives:

Comes with a stylish design.
Its features are amazing.
Optional Dryer Rack Accessory is included.
LED Indicators and LED Cycle Countdown makes this dryer very convenient.
Has Delay Start Option – Up to 24 hours.
Flexible Installation – Undercounter, Built-in, Side-by-Side.
Has a large capacity, meaning you can just toss large loads of clothes.
The need for ironing is eliminated thanks to the Steam Refresh and Steam Dewrinkle.
Has a ginormous capacity.

Negatives:

No drawer in rinser.
Lint screen is hard to clean.

Negatives common to all dryers:

Some dryers may require a major time commitment for servicing or repairing.
Rating:

Design:
8/10
Capacity:
9/10
Features:
10/10
Drying Programs:
9/10
Money Savings:
9/10
Quiet:
9/10
Quality of Dry:
8/10
Speed of Dry:
9/10
Affordable:
9/10
Reliability:
9/10
Total Score: 89 %

Reviews and Prices:

Here you can find and compare user comments and prices from different online stores. Just a small advice – if you find a lot of positive reviews and some negative ones, it usually means that the complaining people don't use the machine properly, or received some defective piece.
Online Store
Price
Link
AjMadison.com
$1,199.00
Details
Amazon.com
$1,167.99
Details
Conclusion: 
Through innovation and ingenuity, these next-generation features and options are solving real-life needs. GE GFDR485EFMC syncs perfectly with today's modern lifestyle. The features, dry cycles, drying options, specifications and design are the main reasons why this dryer is in our Top 10. All in all, with this dryer, you'll enjoy folding laundry because your clothes will come out less wrinkled and amazingly fresh. Drying times are fast and the options are great. However, don't forget to consider its minor cons before making the final buying decision.