RANK #1: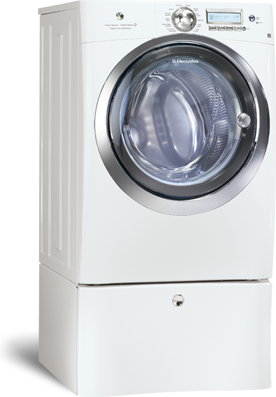 When it comes to choosing the best washer that you can ever use for your clothes, especially during those times where you don't have the time to scrub it, then be sure to check out this amazing model that will surely represent its brand when it comes to the skill of washing the laundry. This washing machine is known to clean up any kinds of laundry like clothes, suits, jeans, whites, active wear, and even your child's favorite stuffed toy.
I put it on the top of the rankings after some really deep exploring of the internet. My estimation is basically based on everything you can imagine, from the design, specifications and features to the actual reliability. In this area the best thing to do was to actually read lots of reviews of people who owned this model. As you can see, this model did pretty well.
Details:
| | |
| --- | --- |
| Dimensions (WxHxD): | 31.5 x 27 x 38 inches |
| Weight: | 247 pounds |
| Capacity (cu.ft.): | 4.42 cu ft. |
| Number of Wash Programs: | 18 |
Features:
This product has an LCD display so that you will be able to easily identify the settings that you did with the machine itself. It has the ExpertCare Wash System which is known to do a waried wash motion and some bottom vent steam technology so that it can deliver the best type of cleaning performance in all angles of the laundry. The Perfect Balance System is also known to have a quiet technology so that you can relax as you wait for your laundry to get done. This machine also has a Touch-2-Open feature which lets you open and close the doors with just a single touch on it.
Spin Speed (Max):
1,400 RPM
Warranty:
1 year warranty for labor and parts
Wash Programs:
Fast wash, My favorites, deep clean sanitize, heavy duty, whites, colors, normal, active, steam prewash, kids wear, fast steam, wool, spin only, jeans, fast sanitize, stuffed animals, pet beds, clean washer.
Wash/Rinse Temps:
Extra Hot/Cold, Hot/Cold, Warm/Warm, Warm/Cold, Cold/Cold
Options:
Too Cold, Cold, Warm, Hot, Extra Hot
Tray Dispenser:
Auto Prewash Detergent Dispenser: Liquid / PowderAuto Bleach Dispenser: Liquid OnlyAuto Detergent Dispenser: Liquid / PowderAuto Fabric Softener Dispenser: Liquid Only
Materials:
Drum: stainless steel, Door Rim: chrome
Color:
Island White
Ratings Electrical Requirements:
Runs on standard voltage electricity (UL Listed /120V, 60Hz, 15Amps)

Images:

Video:
Pros and Cons:

Positives:

Has a neat design
Have many settings to choose from.
Can clean any kinds of clothing quality.
Easy to install.
Easy to use.
Does not use too much water for cleaning.
Cleans all angles of the clothing.
Does not ruin your clothing.

Negatives:

Poor customer service for those with errors.

Negatives common to all front-load washers:

Machine does not work appropriately if you don't install in the correct way and according to the instructions.
Rating:

Design:
8/10
Capacity:
9/10
Features:

10/10

Wash Programs:
9/10
Money Savings:
9/10
Quiet:

10/10

Quality of Wash:
9/10
Speed of Wash:
9/10
Affordable:
8/10
Reliability:

10/10

Total Score: 91 %
Reviews and Prices:

There have been negative reviews of the product on Amazon, but it doesn't really undermine the fact that it's a very reliable washer. Products always get complaints whether they are high quality or not.
Online Store
Price
Link
Amazon.com
$1,197.98
Details
Homedepot.com
$1,349.20
Details
Conclusion:  When it comes to your jack-of-all trades cleaning purposes, the Electrolux EWFLS70JIW surely is the best and what you really need when it comes to your all around washing purposes for any types of laundry that you have. Even your child's stuffed toy will be cleaned to perfection, so be sure to check this amazing machine out in online stores, and make sure that you buy one right now!