RANK: below TOP10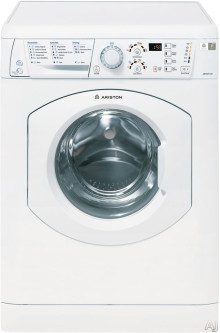 The Ariston ARWDF129 is a great washer/dryer combo for RV travel and smaller laundry rooms. It combines two separate units, improving the efficiency of your laundry and conserving space. All you need to do is load your clothes and set both cycles and it'll take a good care of your clothes. This combo offers good features and different cleaning settings for various fabrics, and what's more important, it automatically switches between drying and washing cycles. Given its quiet operation and low energy output, you won't realize when it's working.
But now let's see what it isn't ranked in our top ten.
Details:
| | |
| --- | --- |
| Dimensions (WxHxD): | 23 2/5″ x 33 1/2″ x 22 4/5″ |
| Weight: | 148 lbs. |
| Capacity (cu.ft.): | 1.9 cu. ft. |
| Drying System: | Ventless Condensing |
| Number of Wash Programs: | 10 wash cycles |
| Number of Dry Programs: | 3 dry cycles |
Features:

Washes nominal load of 15 lbs., and dries nominal load of 12 lbs.
Woolmark silver care setting – ideal for keeping your wool soft and clean.
Has child safety lock with warning sign.
Energy efficient design that saves on electricity and water use.
10 wash cycles that offer top-notch care for various types of fabrics.
Its operation is super-silent with a unique three-phase motor.
Specialized cycles for active wear, extra rinse, wool, delicates and bright whites.
With the Quick&Wash dry option, you can clean small loads in 60 minutes.
With the Delay Timer, you can conveniently program your laundry.
Has Antifoam and overflow/flood protection.

Spin Speed (Max):
1,200 rpm
Warranty:
1 Year Parts and Labor
Wash Programs:
Cotton Wash: Light, Regular, Heavy; Permanent Press Wash: Light, Regular, Heavy; Delicates Wash: Wool, Silk, Delicates.
Dry Programs:
Rinse, Spin, Drain
Wash/Rinse Temps:
n/a
Options:
Delay Timer, Spin Speed, Super Wash, Extra Rinse, Quick Wash and Dry, Bright White, Woolmark Silver Care.
Tray Dispenser:
Bleach, fabric softener and prewash detergent.
Materials:
Stainless Steel Drum
Color:
White, Platinum
Ratings Electrical Requirements:
UL Listed (115 V AC/60 Hz, 11 Amp.)

Images:

Video:

Unfortunately, I couldn't find a video review for this particular model.
Pros and Cons:

Positives:

It's energy star qualified.
Has automatic load balancing system.
Small width, which means it fits great in small spaces.
Washes up to 15 lbs. and dries up to 11 lbs.
Smart combination of dial and digital controls.

Negatives:

It might seem complicated at first.
It takes 3 times longer than most combos to wash/dry clothes.
Capacity is small.
The dryer doesn't dry as good as some other combos.

Negatives common to all combos:

There is no exterior lint trap for the dryer. The lint tends to collect around the rubber seal and you have to empty that once a month depending on the frequency of use.
The clothes need to be free to tumble in order to dry completely. Fill only half of the drum if you're going to use the dry function.
Noisy water pump that expels the water from the machine – although active only intermittently during the wash and rinse cycle.
Produces a bit of heat.
Rating:

Design:
8/10
Capacity:
6/10
Features:
6/10
Wash & Dry Programs:
7/10
Money Savings:
7/10
Quiet:
9/10
Quality of Wash:
6/10
Quality of Dry:
6/10
Affordable:
7/10
Reliability:
7/10
Total Score: 69 %
Reviews and Prices:

Here you can find and compare user comments and prices from different online stores. Just a small advice – if you find a lot of positive reviews and some negative ones, it usually means that the complaining people don't use the machine properly, or received some defective piece.
Online Store
Price
Link
HomeDepot
$1,259.10
Purchase
AjMadison
$1,199.00 – $1,299.00
Purchase
Conclusion: You see, the Ariston ARWDF129 is a combo that doesn't offer tons of special features, but it's a great choice for those who don't have a huge laundry room.