RANK #3: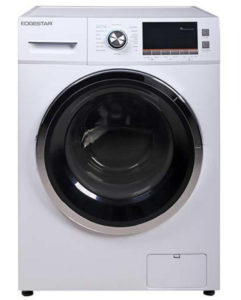 It's finally here. A new version of the extremely popular Edgestar older model CWD1510W. The new model is called Edgestar CWD1550W, and to be honest with you I really love the work the manufacturers did on this new version. They clearly care about the satisfaction of their clients and really listen to any hints to make it always better and better.
Here you can see a new modern LED screen, which look really better than the old one. Additionally they listened to the regular user and added the long expected ability to silence the sound of buttons or even the final beep at the end of the cycle.
Among other improvements belong a faster wash cycle with more options ( in total of 13 wash cycles, 5 wash/rinse temperatures, 5 spin speeds, and 3 soil level settings). For the full details regarding this model, please look at the specs below.
Details:
| | |
| --- | --- |
| Dimensions (WxHxD): | 23 1/2" x 33 1/2" x 22 1/4″ |
| Weight: | 174 lb. |
| Capacity (cu.ft.): | DOE 2.0 (Wash: 15 lb, Dry: 7.7 lb) |
| Drying System: | Ventless Condensing |
| Number of Wash Programs: | 13 |
| Number of Dry Programs: | 3 |
Features:

Add garment – easy way to pause the cycle, add more clothes to the drum and continue.
Built-in water heater – heats water to a higher temperature, and more quickly and efficiently than most other combo washer/dryers
My Cycle – save your most used cycle settings to a quick "one button launch".
Delay Start – set the time when you'd like your cycle to begin.
Anti Foam Control – prevents excessive foam build up.
Auto Balance System – automatically repositions the load and adjusts the speed.
Memory Of Power Interrupt – in case of a power outage, it only takes to push the START button to continue your cycle where it stopped.
FastDry – forced cyclonic airflow technology.

More:

Unique textured workspace top
Automatic door lock and child lock
Overheating Control
Overflow Control
Easy access coin trap compartment
Under-counter installation capable
15 lbs. wash capacity, 7.71 lbs. dry capacity
Tub designed to minimize noise and heat radiation

Spin Speed (Max):
1120 RPM
Warranty:
1 year parts & labor; in-home service
Wash Programs:
Cotton/Normal, Bulky/Large, Sport, Delicate, Hand Wash/Wool, Baby Wear, Speed Wash, Sanitary (Self-Clean), Rinse&Spin, Spin, Refresh
Dry Programs:
Auto Dry Sensor – (FastDry drying technology), Rinse & Spin
Wash/Rinse Temps:
Cold, Warm, Hot
Options:
Extra rinse, Adjustable spin time (9 min. max) – From 600 RPM all the way to 1120 RPM, Self-clean setting, Adjustable leveling feet
Tray Dispenser:
3 slots: Pre‐wash detergent , Main detergent and bleach, fabric softener
Materials:
Drum: stainless-steel, Tub: high-quality polyurethane to keep noise and heat radiation to an absolute minimum, Cabinet: Painted steel, Control Panel: Plastic, Top Plate: scuff-resistant textured workspace, Door Rim: Chrome
Color:
White/silver
Ratings Electrical Requirements:
Standard voltage electricity (UL Listed /115V, 60Hz, 10Amps) – uses the standard 115-120 volt, 15-20 amp wiring.

Images:

Video #1:

(Quick overview of the main features and properties)

The video demonstrates the older EdgeStar model CWD1510W, however, you can still get a nice idea on how the machine behaves as there are not so many changes.

Video #2:

(Nice explanation and tutorial on how to easily set up and program the unit for your current load)
Pros and Cons:

Positives:

Exceptional performance, especially the drying function is said to be better in comparison to other combos.
Energy efficiency.
Very quiet thanks to the high-quality polyurethane material the tube is made of.
Complete wash together with dry in less than 3 hours.
Option to set your favorite cycles in the memory and next time start with just a push of a button.
Heats the water for you – you can use just cold water and then tell the unit to heat the water up.
Fits a 24" deep closet thanks to it's dimensions: 23 1/2" x 33 1/2" x 23 1/4″ (WxHxD). If the depth is one of your requirements, this unit is your best choice from my TOP10.

Negatives:

Beeping after the wash and dry is finished can be a little inconvenient for some users. Although for me it's a good feature as I always forget about the clothes inside:).
Sometimes the door gets locked for a few minutes because it has a safety rule to wait until the machine is sufficiently cooled down after the use of the dry function.

Negatives common to all combos:

There is no exterior lint trap for the dryer. The lint tends to collect around the rubber seal and you have to empty that once a month depending on the frequency of use.
The clothes need to be free to tumble in order to dry completely. Fill only half of the drum if you're going to use the dry function.
Noisy water pump that expels the water from the machine – although active only intermittently during the wash and rinse cycle.
Produces a bit of heat.
Rating:

Design:
9/10
Capacity:
8/10
Features:
9/10
Wash & Dry Programs:
9/10
Money Savings:
8/10
Quiet:
9/10
Quality of Wash:

10/10

Quality of Dry:

10/10

Affordable:
9/10
Reliability:
9/10
Total Score: 90 %

Here you can find and compare user comments and prices from different online stores. Just a small advice – if you find a lot of positive reviews and some negative ones, it usually means that the complaining people don't use the machine properly, or received some defective piece. I also added a price for a silver style design – EdgeStar CWD1510S.
Model and Online Store
Price
Link
NEW version EdgeStar CWD1550W – white (Amazon)

w/ FREE SHIPPING now only:

$899
Purchase
NEW version EdgeStar CWD1550S – silver (Amazon)

w/ FREE SHIPPING now only:

$949
Purchase
Conclusion:  If I had to sum up what I think about this successor model in the Edgestar combo line, I'd say that I'm very happy to see that they really care about clients' opinions and deliver us always improved models based on them. This Edgestar combo is a great choice for people with a limited budget and space, but still seeking the best quality.

PS: I get a small affiliate commission if you buy something via Amazon through my links on my website.