RANK: below TOP10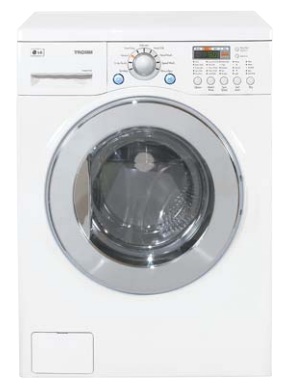 This combo is a dream for those who are short in space. It's easy to use, easy to move and does a good performance. It's Energy Star rated and quiet, which is a big plus. It's also water and energy efficient and very flexible, which means you can wash and dry your clothes at the same time. However, if you're on a budget, you won't like the price. For the same price, you can buy better unit that doesn't take too long to wash and dry the clothes.
Details:
| | |
| --- | --- |
| Dimensions (WxHxD): | 23 5/8″ x 33 1/4″ x 23 13/16″ |
| Weight: | 147 lbs. |
| Capacity (cu.ft.): | 2.44 cu. ft. |
| Drying System: | Ventless Condensing Drying System |
| Number of Wash Programs: | 9 |
| Number of Wash/Rinse Programs: | 5 |
Features:

SenseClean™ System that automatically adjusts the water level and wash time for optimal care of the clothes.
Sensor Dry System that measures moisture and automatically adjusts the drying time and temperature for optimal care of the clothes.
9 wash programs and 5 rinse programs – check the details below.
Delay wash up to 19 hours that offers washing convenience.
Direct Drive motor for ultimate reliability and durability.
Sanitary Cycle.
Reliability and flexibility of wash to dry, dry only and wash only.
LoDecibel™ Quiet Operation that reduces the noise during working.

Spin Speed (Max):
1400 RPM
Warranty:
1 year parts and labor; 2 years control board, 7 years motor, lifetime on the drum.
Wash Programs:
Sanitary, Cotton/Towels, Normal, Permanent Press, Delicates, Wool/Silk, Hand Wash, Speed Wash, Drain & Spin.
Dry Times:
150 min, 120 min, 90 min, 60 min, 30 min.
Wash/Rinse Temps:
Cold/Cold, Warm/Cold, Warm/Warm, Hot/Cold, Extra Hot/Cold.
Options:
Extra Rinse, Rinse & Spin, Extra Wash, Soak, Dry Only, Spin Only, Delay Wash up to 19 hours.
Tray Dispenser:
Main wash, bleach, softener.
Materials:
NeveRust™ stainless steel drum, painted steel cabinet, plastic control panel, premium plastic top plate, transparent door glass, chrome door rim.
Color:
White, Titanium
Ratings Electrical Requirements:
UL Listed/120V, 60Hz, 10 Amps

Images:

Video:
Pros and Cons:

Positives:

Its design is great, especially for people who have small laundry rooms.
It has a cycle that cleans clothes with hot water, which means your whites will be gleaming.
The timer is also a great option.
Has a child safety lock.
Highly water and energy efficient.

Negatives:

It takes about 4-5 hours to do your laundry, depending on the washing/drying options you choose.
The spin cycle adds a lot of extra time.
You must try to balance the load because otherwise, the machine will restart.
The rinse and drying cycles are pretty loud.
It may leave clothes damp and wrinkled.

Negatives common to all combos:

There is no exterior lint trap for the dryer. The lint tends to collect around the rubber seal and you have to empty that once a month depending on the frequency of use.
The clothes need to be free to tumble in order to dry completely. Fill only half of the drum if you're going to use the dry function.
Noisy water pump that expels the water from the machine – although active only intermittently during the wash and rinse cycle.
Produces a bit of heat.
Rating:

Design:
7/10
Capacity:
7/10
Features:
7/10
Wash & Dry Programs:
7/10
Money Savings:
7/10
Quiet:
6/10
Quality of Wash:
7/10
Quality of Dry:
7/10
Affordable:
6/10
Reliability:
7/10
Total Score: 68 %
Reviews and Prices:

Here you can find and compare user comments and prices from different online stores. Just a small advice – if you find a lot of positive reviews and some negative ones, it usually means that the complaining people don't use the machine properly, or received some defective piece.
Online Store
Price
Link
FullHouseAppliances.com
$1,449.00
Details
CompactAppliance.com
$1,013.27
Details
Conclusion: I would recommend this combo to those who want to save space and energy. However, keep in mind that the drying time is quite long and the unit is not cheap at all. If the design is an important feature to you, then yes, it's elegant combo, but today's market offers way better designed units.