"Why my washing machine isn't spinning" is probably one of the most common laundry-related questions. There are plenty of reasons why your washer won't spin, but oftentimes, most of the problems that usually happen are user-generated errors.
First of all, let's start with some of the washing machine spin myths. Let's make some things clear once and for all:
Belts don't stretch. As a matter of fact, belts usually outlive many modern washers.
Carbon brushes wear down. The problem with carbon brusher might appear in old models of washing machines, but you shouldn't be worried because this problem is easily checked.
PCB, also known as electronic modules do cause problem with spinning/not spinning, but we'll tackle that subject on a bit.
However, if you think that the root of the not-spinning problem is in a control part, read carefully this article so that you can know what to do.
Remember: correcting the problems with your washing machine require knowing where exactly to look for the problem.
Blocked filters
Blocked filters are one of the most common causes for spinning problems, often accompanied by not draining. You need to pull the filter out so that you can clear the drain pump in the washer. However, you must be very careful because you might flood the laundry room. If you feel like you need a professional assistance, immediately call an engineer in order to rectify this problem.
Balance detection
This is another common cause for not spinning. As a matter of fact, this is a daily occurrence, even if the washing machine is new and still under warranty. The electronic in the washing machine detects an enormous load and thus aborts the spinning. Please note that most of the electronic controls can be extremely sensitive, meaning if there's some sort of a balance problem, the machine will stop its washing cycle. So, what you need to do is re-distribution of the load before you try again.
Won't drain – won't spin
If your washer won't drain the water out, it will also not spin. In order to find the reason behind this problem, you will need to dig deeper. There are kis toys or small coins into the pump manifold that might be blocking the outlets or inlets, and thus, the draining problem occurs. Using a multimeter, you must check whether or not the drain pump in the washing machine is working. Checking the rotor of the drain pump is also necessary.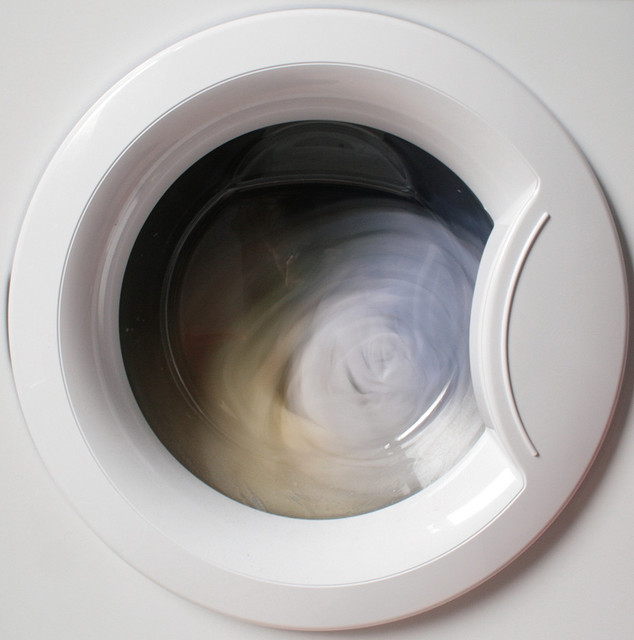 Faulty washer
There are plenty of other errors that can cause the not spinning problem in washing machines aside from the problems we mentioned above. You can either resolve the problem on your own, or you can consult a professional. It goes without saying that if you're not sure what you should do, call a professional because he's trained in electronic control modules, motor tachos, motors, pumps, capacitors and many other things. In the end, washing machines are not the same, so diagnosing the problem is not easy at all.