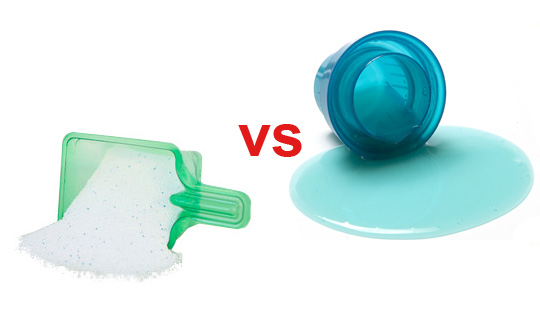 It's funny but I believe that almost nobody knows the answer to this question, although it is something so basic in every household. People normally use what they found to be working pretty good over the last years and don't really stop to think if either of them has any more advantages over the other.
In reality, up to two thirds of the population all over the world simply uses the powder form of detergent. That leaves us with only about 30% of people who prefer a liquid one. There are probably two main reasons, which made it happen. The first one would be the old habit dated from the beginnings of the washer industry, where the powder was practically the only form you could find in stores. The second reason could be a better performance against stains.
There are actually a couple of studies that pretty much confirm this fact and the results were more less very clear. Even the worst powder detergent seems to work the same same or even better than any liquid detergent that was used in the study.
Effect on the environment
Even when considering the impact on our precious nature we can find the powder form clearly winning in the competition. It weighs significantly less, what makes it a lot easier and cheaper to transport by trucks, trains, planes, ships, or any other me
To resort to environmentally friendly alternative , we recommend washing powder . Powder weighs less than liquid detergents , so it is not so difficult to transport system you might think of. I believe that everyone can imagine what a difference it makes if we multiply it by the number of detergents transported everyday all over the world. It's a really significant statistical difference to take into account.
Should I simply avoid the liquid detergents?
The simple answer is no! Despite all the advantages of the washing powder over liquid, in reality there is some big advantage and reason to have and use a liquid form at home as well. The fact is that practically every powdered laundry detergent contains some amount of a bleach.
As you can imagine it is great for white clothes, but what about our nice colored towels and garments? It must have some kind of a negative effect on it right? That's correct, after a significant amount of washes, the colors simply lose their shine, new look and intensity, and become visibly more boring.
So, which form to use in which occasion?
I like to wrap up and make kinds really clear and easy to understand, so here is a practical sum up and guide to follow so that you select the most appropriate form:
Use powdered form with all the white clothes loads. If you used a liquid or gel form, the clothes would get grayish
On the other hand, use liquid detergents if you really want to maintain the color shine on some of your favorite clothes (or try to find a powder without any bleach).  The other advantage of the liquid form is that it basically spreads and dissolves quickly and evenly over all the clothes.
The liquid form especially excels with washing black garments as it doesn't leave any dusty white spots. You can even buy a gel especially designed for black or colored clothing, making your wash even that more efficient.
And what about you? What is your preference? Please, share with us in the comments below!